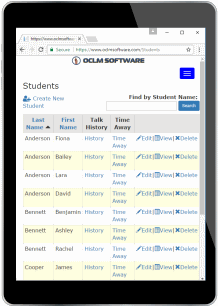 What can OCLM Software do?
This
website
has been designed to schedule the Our Christian Life and Ministry meeting using a simple layout and easy to use features.
Thousands of brothers
around the world have enjoyed using our Desktop Version for almost 10 years.
Please read
more about us.
You can use it with your up-to-date internet browser on your
desktop
or
mobile device
. For example, on your Apple iPad, iPhone, Windows/Android tablet/phone, Windows, Linux or Mac computer. No download required!
Interface in
English
and
Spanish
. Printouts in
English
,
Spanish
,
German
,
Italian
,
Portuguese
and
French
.
How to Add Your Language
.
The exciting CL&M meeting changes for 2019 are Now Ready!